How TO ATTEND Business Meeting
It is important to wear the appropriate attire on an occasion, whether it is a job interview , business meeting , corporate meets , social gathering or wedding ceremony .
A professional look dictates your overall personality. It communicates with what profession and phase in life you are, dictates your present attainment and identifies your personality.
In major corporate and even small business houses has a business casual dress code in the office [suits for senior managements and executives], as well as to wear professional attire at the time of small or big business meeting.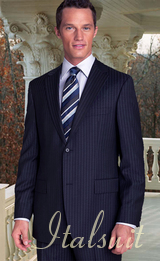 Business people must have to invest Mens suits . Classic two button mens suits , three button mens suit , Mens Italian suits with colors like navy or gray colors with latest styles and fabrics. Many Italian suits will have pinstripes according to current fashion and subtle pinstripes are fine for business meeting.
Enhance your personality in suit with conservative tie , black or brown shiny shoes or leather shoes with less shine, also select belt color match with your shoes color. Wear dark color socks as white color sock is not appropriate all the time with dark color mens suits.
For casual wear of professional men with good design or plain shirt, buttoned with tie, quality fabric pant such as wool or some mix fiber material, black shoes or brown shoes with same belt color and dark socks. The shoes and belt combination for casual wear is same as professional wear.
If you are trying to convey that you are ready for the working world, you should consider avoiding wearing campus casual attire to career fairs, employer information sessions, employer panels, or any other events where you will be interacting with potential employers. Business casual makes a better impression.
What to wear on a corporate job interview

Nothing is sharper than a well-fitting, well-constructed, properly coordinated suit on a job interview. You would want to look justifiable to create an impression. Clothing plays an important role on ones personality. In a corporate interview, never wear a short-sleeve shirt with a cotton trouser or jeans, but instead a fine men suit is highly recommendable. Formal trouser should be creaseless and pressed evenly; always remember that you are also being rated by your looks and not just your mental or capacity skills. In some cases that the whole suit gear is not mandatory, make sure to wear formal pants over a shirt, with collar.

Always take in consideration :

What kind business are you applying for?

What your job function will be?

What job level are you applying for?

Dressing has signals that indicates messages, a message that you want the interviewer to know, that you are ďThe BestĒ. This message may include indications of the person's personality and capability. You would be amazed of the results if taken considerably.

In a corporate office, appropriate clothes are formal, clothes such as a shirt , necktie , and suit , or other similar outfits.

Popularly worn by the majority :

*Single Breasted : Notch lapel, 2 or 3 buttons, single, double or no vent with a neutral color.

*

Double

-

Breasted

Ė6 on 2 buttons, notch lapel, double or no vent with a neutral color.

* Solids : popularly worn by majority interviewees in all ages

(Colors: Charcoal, Gray, Navy, Beige, and Tan)

*Pinstripes : Fine stripes are simple but yet strong looking

(Colors: Charcoal, Tan, Gray, Navy, and Beige)

The clothing company requires its worker to wear on the job varies with the occupation and profession. Generally, low-level workers who do not directly work with the clients are allowed to dress informally. Professionals and other high status workers are still expected to wear simple patterned stripe suits in navy , charcoal or grey with a tie.

Some institution observe anti-discrimination law restricts their determining what is appropriate and inappropriate workplace clothing. Yet, in fact, most businesses have much authority in determining and establishing what work place clothes they can require of their workers. Generally, a carefully drafted dress code applied consistently does not violate laws.

To be able to find the finest Black Suit, ITAL SUIT possesses the expertise of finding you the right suit that you rightfully deserve.
Mens Suits Care for Different Fabrics
In Mens suits , different fabric requires a different type of care. By paying attention to details, your investment will reward you substantially long life of suits in your wardrobe.
Mens Cottons Suits are the best choice for summer but need more care to maintain with regular laundering. With proper care, your cotton suits should keep you looking fresh and feeling comfortable for a long time.
Mens Wool suits are priceless in value, timeless in appeal, and can last for many years with proper care. A few special rules apply here. Wools need their space. Give them a one day cooling off period after wear and separate them when you hang them in your closet. On business tours, you can hang them in a steamy bathroom and it will regain the shape and lose their creases.
Remember to empty pockets and fasten zippers and buttons before hanging. Knits should always be folded to retain their shape.
A brush or damp cloth will serve to keep your wool suits clean. When touching up wool garments with an iron, always use steam, as wool does not respond well to a dry iron. Rather than sliding the iron across the garment, use an up and down motion to obtain a freshly pressed look without damage to the fabric of mens suit.
Mens Silks Suits looks excellent but require special care. They can fade easily when exposed to sunlight. They do not respond well to cleaning with water, as colors may bleed. Avoid wash with other colorful clothes. Deodorants, antiperspirants and perspiration are enemies of silk, so steps should be taken to avoid exposure.
Dry cleaning is a preferred method for silk Suit. Some silks, however, are pre-washed and may be hand or machine-washed. Items should be washed separately on cool or warm delicate settings and allowed to air dry away from sunlight.
If your silk suit is stained, time is of the essence. Tell the dry cleaner the nature of the stain and when the spill occurred. A good dry cleaner is an expert and selecting the appropriate cleaning materials and techniques to restore your precious silk suits to their original beauty.
Linens Suit for men offers a comfortable feel that is excellent particularly during warm months. Be prepared to provide due carefulness to keep you fine linens looking great . Shirts can be dry cleaned or washed. If you choose to wash them, be aware of their propensity to wrinkle and have an iron within reach.
Suits and sport jacket, or blazers must be dry cleaned to maintain their shape and preserve their inner features.
How important is it to have a better fitting Mens Suit?

Shopping, at large, does not mean that you get over a shopping destination and buy a Men Suit without looking over, at the fact as to how it fits to your body form. You can end up buying awful looking Menís Suit, by paying a heavy price. Do you feel buying a Menís Suit that looks awful needs a fortune to be spent on it?
Hence, knowing your measurements correctly is extremely important when you buy a Menís suit. The measurements should be methodically given to the folk on the sales counter or in case if you are shopping online, then providing the details of your measurements online, is an extremely important aspect.
Measurements necessary while you select a Menís Suit are
1. Neck Measurements
2. Shoulder Measurements
3. Sleeves Measurements
4. Chest Measurement
5. Waist measurement
6. Inseam measurement
The shades should also be decided according to the your skin complexion, the color of your eyes, your hair color, taking the contrast between all these colors of your body parts and skin, selecting a suit which co-ordinates with the contrast is very important.
Measuring your shoulder and elbow will define the measurement of your suit sleeves with the measurement of your arm and wrist bones.
Measure your neck with the help of the measurement tape, by which, you can define your exact neck measurement.
Measure your chest across the blades so that you get the measurement of your widest chest part, which enables your free body movements.
Waist could be measured according to the measurement of your pants.
In same measurement is the measurement of your crotch to the ankle and then till the feet.
These measurements are very crucial for the ideal suit that you desire, whose fits and cuts should go according to the comfort of your body and looks chic on your body.
Blazer Suits for Men
Blazer Suits has lapels with long sleeves and a very lightweight jacket. These suits have durable fabric the one with lasts long, year after year. It is hard to find blazers going out of fashion in any fashion season. School students wear blazers majorly as it projects decency within the school premises.
These blazers come in Double Breasted Suits and Single Breasted Suits meant for Men falling in the spectrum of every day fashions changing sphere. Blazer is as similar as, a lightweight jacket, made of wool.
The different colors in which blazers are available are
4. Blazers with Brass Buttons
Blazers are also available with double-breasted form, normally available in navy blue and brass color buttons, but they are also available in black, tartan green and red.
Business Suit for Man
Being a businessman or corporate personality one should always dress perfect at work. Fashion coordination can be easily applied to the aspects of Mens dressing including business casuals and evening casuals. Businessman needs fine collection of suits to dress up well for their conferences, presentation and other business meets. Men are taking greater responsibility and having more knowledge about their attire and clothing. The top business personality is always on the center of attention by other people. The people notice his dressing style from shoes to suit and every step. As clothes makes very much impact on mans personality. Business suits for men enhance manís personality as well as build his identity in the business circle.
Businessman should have latest and classic collection of suits in his wardrobe. Making an exclusive wardrobe for businessman with classic collection of suits is really a difficult task. The wide ranges of business suits such as Italian Suits with High twisted fabrics, super wool fabric Italian Suit, Mens Single Breasted Suit, Double Breasted Suit and Pinstripe Suit etc. The color of the suits need variation from all time favorite blank suit and white suit to olive suit , tan suit , charcoal suit , gray suit/gray suit , navy suit , brown suit . Do not forget to have classic collection of Italian suits. The dynamic composition of Mens Italian Suit combines the natural comfort and resilience of quality fabric, with the style. Italian suits are considered as most modern and popular among business tycoons. The styles of Italian suit for men with high quality fabrics give you an exclusive and fascinated look in any type of business gatherings.
The classic business suit collection need from solid color suits to suits with strips design and pattern, buttons with single button , two button , three button , four button suit style. One of the most important colors to include in your wardrobe is either a black suit or charcoal suit, or probably a navy blue one as well. The main reason is due to the fact that all three of these mens suits colors are very basic, which means that you will be able to wear them for almost any occasion.
One of the most important things that you need to consider when wearing a business suits is how many buttons you will actually button. When you wear a 3-button suit, you will button all of the buttons except for the bottom one. With a 2 button Mens suit, you will button both buttons. With a Mens 4 button suit, it is typically accept to button the two middle buttons, and leaving the top button and the bottom button undone. Although you may think how many buttons you do or do not button seems insignificant, but it is very important.
Men Suit for businessman is ideal outfit and makes profound and upbeat impression; importance of dressing for the right occasion, and putting on apparel that shows best. Another important thing that is very important when wearing a Mens suit is the color that you decide to choose. However, if you are looking for a Mens suit color that is acceptable for all sorts of occasions, some great choices include navy blue, charcoal, most shades of gray, and black. Traditionally, you will also wear a Mens suit that is solid colored or pinstriped. It is also very traditional to wear a tie with your Mens suit. The color of tie that you wear will depend on your own personal choice, however, it is typically not a good idea to wear a horizontal or vertical striped tie with a pinstripe Mens suit .
These are just few things that you will want to take into consideration when you decide to make collection of Menís business suit . With style and fabric always consider the comfort you feel in suit. Because Mens suit as daily routine wear needs more comfort as you need to take many major decisions; in such condition perfect and comfortable dressing is very essential to make easy business deal.
Mens Suits - Perfect Attire for Job Interview
Attending interview for jobs is very important task for anyone. Itís a turning point for prospective career. While attending interview, physical outlook, dressing make more impact with professional and educational qualification.
In Mens suit, black suit is a most often associated with formality and elegance gives impressive look while attending interview. Mens black suits is also suitable for formal events, formal evenings and life cycle events such as weddings, communions etc. Note that tuxedos and tails are almost always black to provide an air of elegance and sophistication.
With Menís black suits, wear a pale blue shirt or a shirt with a soft pattern for soften look. Wear a tie with a pattern, not a solid color on solid color man suits. Avoid bow tie, formal ties, with too much black, white or silver.
Selecting shirt and tie color are equally important for suitable match with Mens suit. Blues and grays are said to be professional colors, while reds and pinks are more creative colors.
Wearing a dash of red or light purple in your tie is perfectly acceptable for formal business attire. Try to make perfect combination of your tie with suit to look great. An attractive and well-tied tie can make the difference between a plain professional look and a sharp professional look.
Mens Suits - Jackets and Pants
Select Mid to Dark colored suits as suitable to your skin complexion.
If you do wear Menís solid color suits, soften the look with a light color shirt, suit pants must match with jacket. Pleated pants have a more classical look in manís suits. Flat front pants have a slimming, modern look, but not advisable for larger men.
Menís suits pant

style includes the drape, the pleats and the cuffs.

Drape of the pants over your lower body should be smooth (no bulge or creasing especially under the waist area) and floats over your legs.

The rise, a portion between crotches to waistband is important to take note as well. Ensure that the length of the rise complements your height. Taller men will suit higher rise while shorter men should settle for lower rise.

There are 3 types of pleats to choose from: single pleat, double pleat, and pleat-less flat front.

For

Menís suit pants

, you can also choose either to have the usual pleats or inverted pleats.

Cuffs are upward folds made at the end of the pants. It is recommended that your cuffs be 1Ĺ - 1ĺ inch wide depending on the Mens overall size.

Generally pants cuffs look better on taller man. It is not advisable for short man as cuff pants give shorter look. Make sure the cuff at the suit pants end fall with ease without too much gather.



Mens Suit: Suit and Style
Make your look more professional with perfect style and additional accessories with Mens suit as follows:
Bring a conservative briefcase or leather binder should put everything you need at easy access of: