More Information About Menís Suit
A high quality suit is necessary in any special occasion which is now considerable everyday wear in todayís trend for men at work.
Ital

suit's ready-made selections are all designed to its expertise and comfort ability, basically to meet our customer's satisfaction. An ideal suits project self-confidence and creates influence in a business or in any working place. It emphasizes masculinity and elegance.

It may not be obvious for men, but it is most certainly important that each man should wear their suits appropriate to their size, look and personality. However, color, style, and material does matter, which infact plays an important role. In any men's suit, a combination of natural comfort, suppleness of quality, and identification of finest fabric material should always go together.
Selecting an appropriate suit is exceptionally vital for men. Each man could look his best depending on the way he dresses himself
. That goes with choosing the right color and style ,

double breasted

,

single breasted, fashion or traditional suits, coordinating with a matching shirt, blending with its color, selecting the trouser that fits you best (pleated or non-pleated), adding a vests as a flavor, c

hoosing the right number of buttons,

and lastly, accesorizing the suit with a nice cufflinks that would add up a flattering remark on the outfit you are wearing.
Suit Buttons
In Menís suit check the buttons and buttonholes are sewn tightly, with good quality thread.

Confirm that the suit jacket buttons with no trouble and donít drag on both sides, whether you prefer to stand or to sit.

Making sure that buttons are placed well with equal distance.
MENíS SUIT DETAILED STITCHING:
Professional detailed stitching is necessary in purchasing a menís suits . It has to be perfectly trimmed and preferably, hand stitched. Hand-stitched garments does not only hold the suit parts stronger, it makes it look more proffesionally made, and simply flawless.

Moreover, a flawless menís suit makes an ideal and exceptional make in a garment.
Menís Suitís Collar and Lapel
Suit collars extending to the front part of the chest area are known as lapels. Lapels and collars are widely modified menís suits for change suit fashion. The collar snags tightly around your neck without buckling. One half inch of the

dress shirt

should be visible under the suit collar.

Standard lapel width should be 3 to 4 inches. Most importantly, it should be proportionate to the overall size of the Menís suit, as well as the distance between the chests to the shoulder.

Lapels have to fall flat on your chest. They should not buckle or bunch up. In general, lapels should have the end tip about halfway between the suitís top sleeve and collar.
Pocket Style for Men Suit

Pockets are important in

menís suits

because its styles can vary on different suits.

A popular tailoring for pockets is the besom. It is an inset pocket sewn inside the garment with access through a narrow welted slit-type opening.

Three types of pockets are popular on suits are slit pockets, flap pockets and high quality pockets. A slit pocket represents a slit style that gives a clean finish on the suitís hip area. Usually the slit pockets are jetted at the opening of the pockets. Flap pockets are additional fabric on covering the outside of the pocket opening. A high quality pocket allows both a slit pocket and flap pocket. It is required to be double besomed so that it becomes a slit pocket when the flap inserted into the pocket. It gives alternate looks on a single suit.
Vent in Mens Suit
In Menís suit, vents are vertical slit openings creating flaps at the lower back of suits.

Vents are tailored to provide freedom and space for movement around the hip area of the suit. Without a vent, it can cause the suit to crumble and feel tight at the hip area.

Vents should have the one of the flaps overlap the other by about ĺ inch and not reveal the pants through it.

The three popular types of vents in suits are single vent, double vent and vent-less.

In single vents, the slit opening is at the center lower back of the suit. This is a typical look found among American-style suit.

In double vents, vents are cut symmetrically on both sides of the hip area of the men suit. It provides more freedom of movement than single vents. It also emphasizes the lines of the body.

In Vent-less there is no vent. Vent less suit can restrict movement like raising your arm or sitting. It is more suitable for slimmer man.
Button in Menís Suit
Buttons involves the most handling during the wearing experience especially when fastening and unfastening.

Plastic buttons are not suitable in suits. Select natural horn, pearl, or bone buttons in men suits. Mother-of-pearl, metal, or ceramics are other types of button for Menís suit.

Check that the closure is tight when buttoned. There should not be puckering of fabrics around the fastened buttons. Such puckering would mean unleveled sewing of buttons and buttonholes.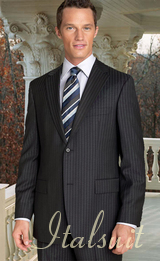 Shoulder Padding in Menís Suits
Generally most suits have padding and the thickness of shoulder pads depends on the Menís shoulder and body shape.

Slightly thicker shoulder pads would be suitable for slope shoulder men to make the suit look leveled.

Heavy padding will not be suitable for men with wide broad shoulders.
Armhole and Sleeve style in Men Suit
Armholes are the inside of your sleeves where you slip your arm in.

Generally high arm holes would give suit a nice drape.

The armholes should be wide enough for easy movement of arms.

An important advice about sleeve style in suit is they should end at about Ĺ to ľ inches before the dress shirt cuffs worn within.

Generally the sleeve will end at mid-point of your wrist bone.
Menís Suits Pants
Menís suits

encompassing the pants are the drape, the pleats and the cuffs.

Drape of the pants over your lower body should be smooth and floats over your legs.

The length of the rise complements your height. Taller men will suit higher rise while shorter men should settle for lower rise.

In menís suit pants, there are 3 types of pleats such as single pleat, double pleat, and

pleat less flat front

.

Cuffs are upward folds made at the end of the pants. It is recommended that your cuffs be 1Ĺ - 1ĺ inch wide depending on the Menís overall size. Generally pants cuffs look better on taller man.

To make shorter man look even shorter with cuff pants. Make sure the cuff at the pants end fall with ease without too much gather.
Menís Suit Styles
Nowadays, men believe that looking good is an important aspect of their lives. Whether it is business, parties, gathering or the social life, men are now more cognizant about their looks as compared to the past. For looking good and fashionable, it certainly requires little amount of effort but ultimately your clothes have to suit your image, style and personality. One thing should always be kept in mind, that it is not about the clothes you wear but how you should wear them. You need to maintain a balance between the fashionable and the basic attire in your wardrobe for exclusive collection of suits .
Menís Suit Styles
Menís Single Breasted Suit
These are the basic style of most suits. The front buttons on the suits are in a single straight row. There are two types of single-breasted suit ; two button single breasted Suit and three button single-breasted suits. Single breasted Menís suit means a suit with a coat or jacket having single row of buttons and a narrow overlap of fabric while a double breasted suit has a wider overlap and two parallel rows of buttons. A single-breasted suit jacket with three or four buttons will elongate a larger upper body and tend to flatter the slim. Single-breasted suits are generally better for slender figures.
Go for the two buttons, menís
single-breasted
suit if this is your first suit. While the
three buttons
is very trendy, it is not always appropriate and will probably be out of style soon. The two-button suit is an essential basic for mans wardrobe. Single Breasted with 2 Buttons and side vents, trousers have one reverse pleat is a classic suit for all kinds of occasions.
Menís Double Breasted Suit
Ital Suit is proud to introduce the finest and elegant choices in our menís wardrobe, mentioning our double-breasted suit. Not just a few, but also more and more of our famous selections are having known and tops the market in menís wardrobe today.

Double-breasted cater to men in business meetings, special events such as nuptials , gala or any social events . We recommend pinstripes in formal events , while solid suits could also apply worn in an ordinary business meeting , and a formal event another important informationís about choosing the right suit, is that we should inspect, feel, and examine its quality make.

Primarily double-breasted suit cater to all men in all lifestyles, though it has been much more famous in men from ages 30 and above, it has been highly noticeable that even the adolescents start to include double-breasted suit in their closets. For younger ages, a solid suit is preferable; on the other hand, a nice pinstripe suit could be a secondary choice for young men.

Black pinstripes suit gives a style eccentricity, however, both solid and pinstripes patterned suit are ďthe classicĒ look wherein you would not go wrong with.

Do not be carried away with high branded suits, you may be mislead with an unsatisfactory material. Do not be afraid to touch and feel the fabric. The finer quality are highly recommended, Super 150ís simply designed to its elegance.

To top it all, remember to purchase what your moneyís worth. Do not get carried away with high branded signature stores. Try to be a wise shopper. An example comparison, ďBrand-AĒ- a well known store that cost you so much more, against ďBrand-BĒ, a growing competition, offers the finest quality and distinctiveness by itís expertise.

To top it all, a nice suit has to fit you perfectly. It has to have a good consistency, material and construction. You have to wear something that go with your taste and makes it ďcomfortable in your skinĒ You would be surprise what ital suit could offer you, and will help find the suit that will suit you ďBESTĒ.
Menís Double Breasted Tuxedo Suit
In menís wear,

tuxedo

is one of the classic wardrobe that never cease in style,

black

has constantly been the traditional color, though other shades tend to be integrated, depending on special occasions that has color uniformity.

Black tuxedos

are well defined of its elegance that no men could go wrong. The colors itself symbolizes sophistication and refinement.
Highly recommended tuxedos and accessories as follows :
* Double breasted -Double-breasted suit coats are almost always kept buttoned
* Single breasted -Single breasted suits' coats may be either fastened or unfastened
* 1-button tuxedos - could either buttoned or un buttoned
* 2 button tuxedos -In two-button suits the bottom button is generally left unfastened
* 3 Buttons tuxedos -three-button suits is to leave the bottom button unfastened , sometimes button the top button
* 4 Button tuxedo -four button suit, he may choose to wear the suit with all of its buttons fastened, two buttons fastened (usually the middle two), or all of the top three.
Menís Three Piece Vested Suit
Menís three piece vested suits featured excellent in fashion circles, inspired by its classic look. Wear your vest buttoned up underneath suit jacket. A three-piece suit vested will have either two side adjusters or the more common back adjuster. A vested suit would be proportionate to the suit. Menís three-piece suit vested gives new outfit and classy look.
Quality of Suit - An Important Factor for Mens Suit
High Quality Suit increases Menís personality. Suit can change personality of man from ordinary to extra ordinary. While selecting Menís suit , high quality of suit is very important. Some important factor to judge how best the suit quality is as follows:
Menís Suit Design and Style
To check

man suits

, Fold pants, shirts, and other garments in half lengthwise to ensure that the right and left sides are symmetrical. Check that the right and left sides of the collar are equal in shape, size and positioning.

Confirm that patch pockets lie perfectly flat against the cloth, with no space between the pocket and the front of the garment. While holding the suit garment upright, make sure that the pocket doesnít hang away from the front.

Hold up suit pant to ensure that the lining follows the cut of the suit, falls smoothly and does not extend below the hemline. In general, womenís slacks, fully lined, while menís slacks are lined only in front, just below the knees.

In suitís pant, check zippers up and down a few times to make sure that they run smoothly and does to snag.
With all above factors, durability is also an important factor for quality suits . As suits cost high it needs longer life with style and modern looks. Having more Mens suits will provide you more options of trying out various styles and unusual colors for your suits but never make compromise with suit quality. You can get exclusive range of high quality suits from online Menís suit outlet .
Menís Suit: Jackets
Full dress:

Tails or Tailcoat

Cutaway:

Morning coat. They are short in the front and long in the back. Tapers from the front to a wide back tail. Usually reserved for "Morning or Daytime" weddings.

Mandarin:

standup style coat with no lapels.

Tuxedo:

"regular" coat

Stroller:

semi-formal suit jacket

Single-breasted:

Single-breasted coats button down the center. in regards to jacket; symmetrical front; buttons at the center; option of leaving coat buttoned or unbuttoned

Double-breasted:

Double-breasted coats cross-over the center to button. In regards to jacket; one side of coat overlaps the center and buttons across to the other side; usually gives a fuller look in the chest area; suggested that these coats be buttoned at all times while standing.
Menís Suit: Lapels
There are different types of Lapel (commonly known as collar) for Man Suitís Coat as follows:
Notch Lapel:

Triangular Indentation in lapel (It is considered as most common and popular lapel style for manís suit)

Peak Lapel:

V-shaped Lapel that points upward

Shawl Collar:

Rounded lapels
Menís Suit: Coat and Trouser Material
For Menís suit , terms used for various types of fabric such as super wool of 100, 110, 120 , 150 count
Worsted Wool:

100% Wool fabric (standard); thread count is generally 60 to 75 threads per inch in worsted wool.

Super 100s:

Finer and softer wool, material thread count is 100 threads per inch.

Super 110s:

even softer than the Super 100s; thread count is 110 threads per inch.

Super 120s:

Menís suits with Wool Super 120ís are soft material which softer thread count is 120 threads per inch.
Super 100 Menís suit, Super 110 Menís Suit and Super 120 Menís suit are considered as high quality suits. The ranges of Italian Suits such as Super Wool 120 Italian Suit, Super 110 Italian Suit and Super 100 Italian Suit are also considered as quality suits for man.
Menís Suit: Shirts

Menís Suit: Vests / Cummerbunds
Full back:

In full back vest, material is on back of vest; covers back of shirt

Open back:

No material on back; back of shirt is visible in open back style of vest in man suit.

Cummerbunds:

Pleated swatches worn around the waist; the pleats should be facing upward.
Menís Suit: Neckwear
Neckwear or Tie either with suit coat or shirts increases personality of man. In Menís suit, types of ties are used as follows:
Bow Tie:

The most traditional tie option; self-tie or pre-tied

4-in-hand Tie:

It is similar to ties were with a casual suit.

Sharpe:

Wider tie with wrinkled knot

Ascot:

It is wide tie which is folded over; pre-tied.

Bolo:

A kind of Western tie
Menís Suit: Jewelry
For any occasion, jewelry is must to enhance the outlook of Menís suit. Even with formal shirts and pants jewelry makes different looks to manís personality.
Studs:

Set of 4 button-like pieces are used in lieu of the button down the shirt. Studs should always be used with formal shirts.

Cufflinks:

set of 2 pieces, which fasten formal shirt cuffs. Cufflinks should always be used with formal shirts.

Button Cover:

It is larger pieces used in lieu of a bow tie. It is used with a mandarin or cross wick style.
Man looks best in Suit . No other Menís dressing can give such extra ordinary look as man in suit. Without suits, men would have nothing. The suit makes different and classic look at any occasion or function. A suit is generally worn with the intention of creating a certain image. In the business world Menís suit can convey the good position, establish power and express oneís proficiency in his profession. Suit is designed to make you look better, to break boundaries between social classes, to make a small man tall with different suit styles and patterns or a fat man rich with soft wools.
There are various types of Menís suit and styles for different occasion and place.
A suit jacket goes with suit pants, not with jeans.
If you want a casual jacket, buy a sport-coat or a blazer. A blazer is a long sleeved lightweight jacket having lapels.
Students commonly wear blazers as casual attire. The blazer is

single-breasted coat

, closely related to a suit jacket. Generally, it differs from a suit jacket in that the buttons are usually metallic, and the outer material generally more durable.
The

tuxedo

, a formal wear, a jacket and trousers with accessories like a formal shirt, waistcoat, cummerbund and bow tie and formal shoes to go with it.
Menís Navy Suit

is great for business, lunches, summer dinners, or casual parties. Can be worn with black or brown shoes. Standard blue means navy, with no room for paler shades.
In the meeting or gathering related to business or in financial industry the

pinstripe and chalk stripe suits

, worn very often and are mostly favored by many business personalities.
Menís Classic Gray Suit is appropriate for any occasion. Gray suit is also the best with patterns, especially anything in the chevron family. Start with plain, move to windowpane. Even such, the gray is never controversial.
Menís traditional suits are generally solid colors or pinstripes, with refined checkered.
Menís Basic

Black suit

is favorite and classic, the perfect compliment to a good white shirt, popular among designers and fashion-conscious people. If you only own one suit, black suit is best.
Men, generally, will take any pants that come with a jacket. Choose according to your image of yourself. The pleats are wanted in the single-pleat case, on a pair of wool pants. The pants look crisp and well folded, rather than puckered.
If you are a big personality, you should take care from every angle when you try on jacket that it should button easily, and not pull when you sit or stand. Your arm should move easily.
The classic conservative shirt colors are light blue or white. Shirt Colors should match suit and always be lighter than tie.
Fabrics for suits should be wool or wool blended with polyester. Wool is usually too warm, but generally, the higher the wool content, the richer looking the

suit

.
Menís Suits in the ancient times were better known as:
1. Coat
2. Waistcoat
3. Breeches
Menís Suits are most elegant Menís wear since the beginning.