SPECIAL TIPS FOR MENíS SUIT
Finding the right suit to wear is quite crucial. We should remember that first impression does last, and wearing the right attire is exceptionally necessary. You would want to wear the right wardrobe, may it be a
fashionable zoot
,
traditional suits
, matching with accessories such as
hats
,
shoes
,
belts
and
shirts
to match.

May it be a
fashionable
,
formal black tie event
, or
business attires
, you have to dress appropriately.
When you are considering about fashion and style of Menís suit, you need to follow:
Latest Fashion style of Menís Suit

Suit Patterns [Combination of Pattern for shirt & tie, for Suit, Shirt & Tie]

Button Style [One to Four Button]

Suit Jacket Style
Menís Suit - Fabric and Style
Quality Fabric for comfort and style
Selecting fabric of suit is very important. Wool Suit is best and it is wrinkle free and it saves your money on dry clean. Suit with Wool-polyester mix fabric will wrinkle less. Wool suits can look fashionable. Take an advice of sales person or your fashion designer for all season fabric and latest trend of suit style. The fabrics used in high quality man suits are usually the best, mostly worsted wool for business suits. These fabrics are used in the counts of 80s and 90s, or super 100s, super 150 wool and higher. The counts in the range of 80s and 90s also feel great and usually last longer than higher counts made at even the best clothing manufacturers.
Suit Button Ė Fashion and Flexibility
In men suit, three-button jacket looks unique, one button suit makes a difference. For thin men double-breasted suit or two button suits is best option. Generally there is no major difference between two-button suit and three buttons suits. It is believed that 2 buttons suit is popular among gentleman while younger man prefers three button suits . But one has to judge oneself that which suit match most perfectly. One button suit and more than three button suits are suitable for social events. You should care all angle in dressing if you are belongs to big personality such as you can button your jacket easily without wrinkle, sit and stand easily, arm should move properly.
Menís Suit Pant Ė for Perfect Outlook
The best choice to stay in style and look slim is flat front pants . You will indeed need a little stitching; the pants should stop right above your heel, and rest on your shoelaces, or where your shoelaces would go. Ideally your pant should rest comfortably on your waist with or without belt. Your pants should be lined. When you sit or bend pockets should not knob or crease. Check that your suit is comfortable in different posture while sitting, standing or bending.
Menís Suit Pattern Ė Designers View

For mixing pattern, there is coordination between pattern of same design and patterns of different designs. The ultimate challenge is mixing three or four patterns together but not looking ridiculous at all.
Menís Pinstripes suits are fine. Make the stripes subtle so that the suit stays in style. Bright color suits are not advisable unless your fashion designer suggests it or you have knowledge of dressing style. Keep it simple, and go with charcoal , black or navy suit .
The lining should feel rich and thick to the touch. An unlined or poorly lined jacket has a short life span and it wrinkles easily. The jacket should be fully lined with no seam wrinkling; Sleeves should come down to the wrist bone.
Mixing two similar patterns such as stripes boils down to the size of the stripes as well as the spacing between the stripes. Make sure these two factors are as different as possible between the stripes. If two small size stripes are put together, the effect can create quite a bit of tension between them. When having two different stripes yet with similar spacing makes it difficult to put the attention on either stripe.
Coordinating stripe suit and stripe dress shirts have come up with various results as well when the spacing between the stripes differs. One combination involves stripes with very similar spacing for both the suit and dress shirt. The other combination is where the suit has a much different scaled stripe spacing compared to the dress shirt. Mixing two similar patterns like checks applies the same theory as the stripes. But checks have more intense pattern compared to stripes, so it can be more difficult in coordinating especially for plaids.
If you use medium sized check dress shirt matched with a similar sized check tie, the look will turn weird because of the similarity in size of the checks that sets a tension for the viewer. However, if you match it against a smaller check tie the overall look allows a smoother transition between the two similar patterns even though with more contrast. Yet when we use small check ties to put it against a tightly scaled check dress shirt, we are creating a lot of disorientation. This is because of its intense and vibrating effect on the eye that is confusing and blurry to the viewer. Avoid using two similar sized checks together but use contrasting scaled checks.
For the overall best effect on menís fashion dress style , mixing two similar patterns boils down to the concept of using two designs with different scales and different spacing. This applies for suit against shirt, shirt against tie, or even suit against tie.
Two similar patterns like the stripes between the suits and the dress shirts to ensure they are different. Generally, suits have larger scaled stripes and so it is better to use a smaller spaced stripe for the dress shirts. For the tie, it is advisable to use of larger spaced patterns like polka-dots or large dotted floral prints to give a good balance on the finer stripes found on dress shirts. Ties with larger patterns or wider spacing are safe choices to create a more soothing effect for the eye.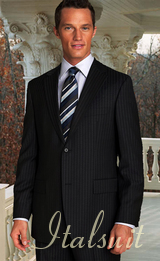 Off-the-peg suits are good for those who are looking for variations, for different types of fabrics and styles. Off the peg suits are designed to fit the standard figure. If, like the vast majority of people, you have a drop shoulder, you stand with a stoop, have a prominent chest, high hip, or any other number of variances in body shape, stance, and stature, then the suit is unlikely to fit well. Because of this, these suits are almost always cut easy.
This is for the simple reason that most people generally prefer their suits a little loose rather than too tight. "Off the peg" refers to a suit cut on a standard block, based on your chest size. Other measurements, such as shoulder width, length, sleeve length, and waist and seat, are all taken from the averages based on this initial measurement.
When we look at color coordination for menís suit, there are two aspects to focus on coordinating menís clothing against skin complexion and creating color harmony between different hues and shades. The aim of coordination for colors and patterns is to achieve naturalness as well as bringing out the best blend that brightens up the manís overall look in the suit.
Menís Suits come in all types of qualities and styles. It is important to identify perfect style deciding what to buy one, because all types of suits look different on different people. Mans suits range from classic styles to trendy ones depending on your wardrobe needs